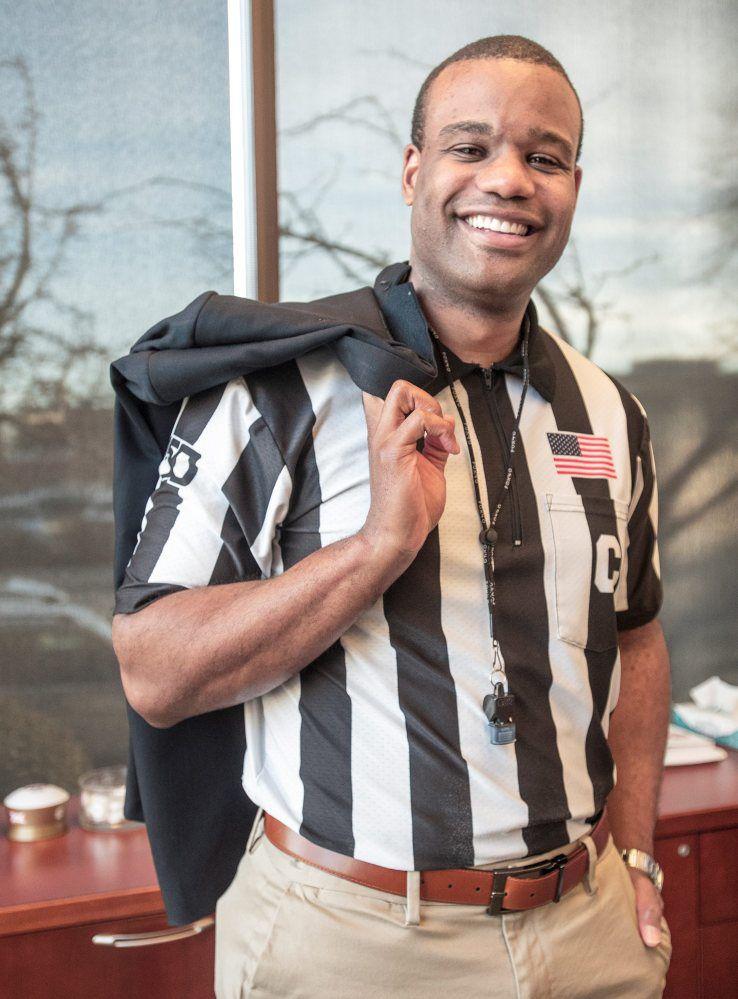 CHAMPAIGN — By day, Bryan Banks is a mild-mannered Busey Bank executive, wearing a jacket and tie to work.
He's a fast-rising businessman, now the Retail Banking Project Manager/senior vice president with a nice office at Busey's downtown Champaign location.
On fall weekends, Banks morphs into his alter ego, wearing a striped shirt and carrying a whistle. He's a fast-rising college football official, who serves as a center judge in the Big Ten.
The Illinois graduate who grew up in southwest Champaign, just worked the Sugar Bowl earlier this month, his first assignment in a New Year's Day Six game.
"I think anyone who is driven, when they get into something, they're going to look at, 'How high can I take this?'" Banks said.
Banks — a product of Champaign schools Westview Elementary, Jefferson Middle School (for two weeks), Franklin Middle School and Centennial High School — earned his way by scoring well this season on game evaluations.
He has moved toward the top of the profession. At age 35. He worked the Big Ten title game in 2017 and has been on the field for Michigan-Ohio State.
Not bad for a guy who only started officiating in 2010. His first job was working high school games in Chicago. For $50. In the Big Ten, he makes 40 times that much.
Eventually, Banks hopes to take one more step … to the NFL. No rush.
"I am in a very, very, very small percentage of individuals who get to do what I do at the Big Ten level," Banks said. "It's special."
Banks's bosses at Busey fully support his officiating career.
He has been with the company nine years.
Before each game, Banks texts a picture of the scoreboard to seven or eight Busey employees, including CEO Robin Elliott, "to let them know where I'm at."
No texts will arrive soon coming from Champaign's Memorial Stadium. Not for a while.
Because Banks' mom, Maureen, works at the school, he isn't allowed to officiate Illinois games.
"I have done them in the past, but the rules changed and now I can no longer do them," Bryan said.
Origin story
How did Banks get here?
The former quarterback at Centennial went to Quincy University to continue his football career. After four surgeries in a year and a half — knee, hernia and both shoulders — Bryan decided to transfer to Illinois, where he studied accounting.
After he finished college and was living in Chicago, Banks missed football and wanted to stay involved.
He considered coaching. For a second.
"If you go the coaching route, it's got to be a career," Banks said.
His accounting job — Banks initially worked for Ernst & Young in Chicago for three years and then spent nine months at McGladrey before a connection with Busey executives Greg Lykins and Van Dukeman helped make a return to Champaign possible — made a commitment to coaching unrealistic from a time standpoint.
Banks found another way to stay a part of football: becoming a striped shirt. He joined the Catholic Officials Association, which handles high school games for Mount Carmel, St. Rita and the rest.
Banks spent one year officiating in Chicago, then started working games in Bloomington.
He almost had a big blunder in a Bloomington-Normal Community game. On a punt, he anticipated a catch and blew his whistle. Softly. The returner dropped the ball, then jumped on it.
An inadvertent whistle is a major no-no for the guys in striped shirts.
"You don't want to do that," Banks said.
That play helped Banks to decide to spit the whistle out of his mouth after the snap.
"Every play," Banks said.
Early in Banks's officiating career, local educator Greg Koerner took him to an Eastern Illinois scrimmage. Banks worked as the back judge.
Banks met another official who had a six-game opening for a back judge in Division III College Conferences of Illinois and Wisconsin.
"I was like, 'Yeah, I'll do that,'" Banks said.
That popped the door. The next year in 2012, Banks was hired full time as a CCIW field judge.
In '13, Banks climbed to the Missouri Valley, the top conference in the FCS. Powerhouse North Dakota State just won another national title.
"It was a great experience," Banks said. "As you go up, it obviously gets faster."
In '15, Banks jumped another level to the Mid-American Conference. He worked two spring games to help prepare and adjust to the learning curve.
Banks called 13 games, including the MAC championship and the Las Vegas Bowl.
"A lot of back roads in Ohio," Bryan said. "A lot of Diet Cokes or coffee."
Football's finest
In May '16, Banks got the call from the Big Ten.
"I've been very fortunate in my career path," he said.
Banks remembers exactly where he was when he found out: Playing in a golf outing at Effingham Country Club. He just finished on hole No. 4 and was walking to the next green when his phone rang. It was Bob Waggoner, the MAC's supervisor of officials.
"He said, "I'm about to make your day a little bit better,'" Banks said.
Banks knew there were Big Ten officials moving to the NFL. But didn't count on a promotion after only one season in the MAC.
"I was pumped," Banks said. "I told the group I was playing with, 'Hey guys, I'm in the Big Ten.'"
Then, he crushed his drive 300 yards, right? Not so much.
"I hooked my shot out of bounds," Banks said.
Big Ten crews are led by the referees. They are the ones who wear the white hats.
Down the road, Banks wants to try one on.
"I'd like to think I've got the personality to manage personalities and coaches and other crew dynamics," Banks said.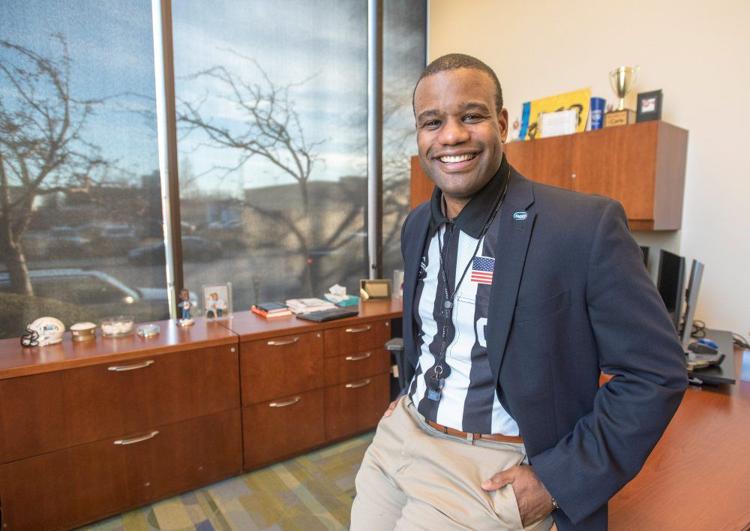 It's in the blood
Some families are known for singing (Osmonds, Jacksons, Gibbs). Others excel at baseball (Bells, Boones, Ripkens).
And there are acting families (Barrymores, Redgraves, Sheens).
The Bankses are all about officiating. Bryan's dad, Sam, spent 20 years as a basketball referee, with time in the Big Ten, Pac-12, Missouri Valley and former Big Eight. Uncle Mike, Sam's brother, is a side judge in the NFL, who will call his third Super Bowl on Feb. 2.
"Mike's been there to share with him not only how to manage officiating situations in general, but the specifics of football," Sam said. "What he should be looking for in certain situations on certain plays. Mike's been there. They talk once a week during the season."
Bryan's cousins, Matt and Paul, are football officials in the Missouri Valley.
"I'm a firm believer in having mentors, having coaches and having champions," Bryan said. "For me, my mentors have really been my dad and my uncle.
"My champion is (Big Ten referee) John O'Neill, When I was in Division III, he invested time in me by evaluating my games. He was one of the guys who recommended me to make the move to the FCS level. Tremendous impact."
Waggoner and Big Ten supervisor of officials Bill Carollo have been Bryan's coaches.
"They have been great with their specific feedback," Bryan said.
True athlete
Think officials are just a bunch of out-of-shape ex-players? You might want to check out Bryan on YouTube from his rookie year in the Big Ten.
During an Illinois-Northwestern game at Ryan Field, a Wildcats defensive back, Godwin Igwebuike, raced toward the end zone. With former quarterback Bryan keeping pace.
Somebody timed Bryan's 40 and gave him credit for 5.0 seconds.
Speedy.
"That was cool," Bryan said.
Mike McDonnell, Bryan's coach at Centennial, saw the game.
"I go, 'I recognize that stride. That must be Bryan,'" McDonnell said. "I called him afterward and it was."
McDonnell isn't surprised by Bryan's rapid rise as an official.
"Bryan is very intelligent and he's very personable, so people are going to like him and he's going to absorb everything around him," said McDonnell, who retired in 2014 after 18 seasons with the Chargers. "He's got great poise, which a referee must have with the intensity out there. I saw him doing great things."
McDonnell calls Bryan, "one of the best we ever had. And we've had some good ones as far as quarterbacks go."
Bryan's athleticism and mindset work well in officiating.
"He's a guy that you put a challenge in front of him and he just steps up and meets it," McDonnell said.
It isn't always easy.
"I keep getting older and they stay the same age," Bryan said.
Bryan has been run over a time or two. It happens.
During a game at Indiana State, a receiver diving for the pylon got taken out by a defender. And mowed over Bryan.
"You can see me on my stomach on film, putting the 1 up because I had him out at the 1-yard line," Bryan said.
During a game he officiated between Rutgers and Michigan during his first year in the Big Ten in 2016, Bryan was backing up on a field goal.
Let him tell the rest.
"My shoelace catches my foot and I do a backwards tumble," Bryan said. "I held it well. I ended up on my feet, picked up my hat and didn't stop the play or anything."
Of course, it was on video. So ESPN's Scott Van Pelt showed it. So did BTN.
"It was everywhere," Bryan said. "You can still Google, 'Michigan-Rutgers referee fail.'"
Quiet entrance
You won't see Bryan's upcoming schedule in the newspaper. Or on social media.
The Big Ten, and all football leagues, try to protect the identify of officials.
The officials arrive in the city by 5 p.m. Friday and have to be at the stadium three hours before kickoff.
"If my flight's canceled, I'm driving," Bryan said. "It's that serious."
The officials go to dinner together on Fridays. There is no interaction with the public. During the week, Bryan keeps busy with game preparation.
"I'm doing something related to football every single day," he said. "I don't just show up on Saturday and throw flags."
After the games, the officials meet with an evaluator and they go over what went right and wrong.
"These guys are all former officials," Bryan said. "They understand how difficult the job is."
On Sundays, Bryan reports his fouls to the Big Ten.
He also watches the game film.
"You want to get better every week," Bryan said.
On Mondays and Tuesdays, he has video quizzes. On Wednesday, he scouts one team and Thursday takes a look at the other.
"I will look at the left tackle and the defensive end to see how they play," Bryan said. "To get an idea of the schemes the offense and defense runs."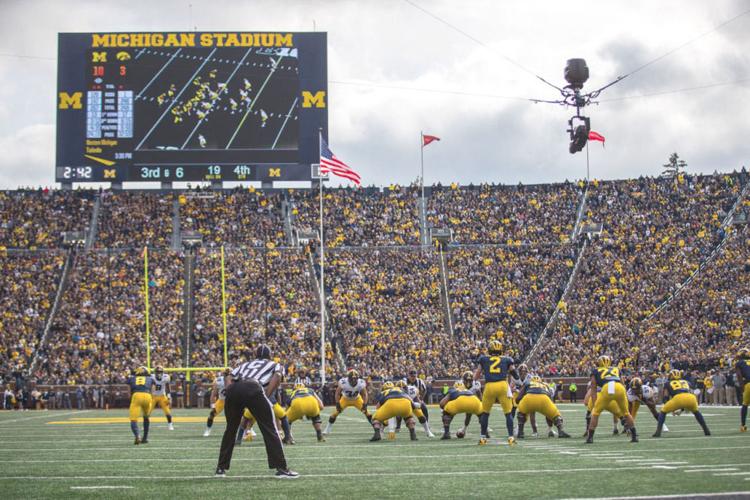 Full circle
Almost 21 years ago, The News-Gazette ran a story on Sam. With the headline, "Whistle while you work."
Yours truly followed Sam for a day as he officiated a Bradley-Evansville basketball game.
Bryan was 14 at the time and attending Franklin Middle School. He remembers the story.
Sam didn't push Bryan toward officiating. But he thought Bryan would be good at it.
"Bryan has always been one of those people who has been a leader," Sam said. "He's a good decision-maker. He's one who is not afraid to take on challenges, And a lot of that is what officiating is about.
"Being willing to put yourself in situations where you know you've got to make the decision. Not everyone's going to be happy with it. But you have to do something for the good of the cause."
When Sam first became an official, he worked football and basketball. As his basketball career took off and his family grew (Bryan and younger sisters Brittany and Danielle), Sam gave up football.
"The nice thing about football is it's one day a week," Sam said. "I was gone three, four days a week officiating basketball."
Sam suggested Bryan go the football route. For one, as a former player, Bryan has a passion for the game. And the one-game-a-week schedule fits much better with a family and job. Bryan and his wife, Kayla, have two children: 4-year-old Emery and Genevieve, who was born in August.
"You're taking off on a Friday, you're back home on a Sunday afternoon and you're ready to go to work on Monday," Sam said. "It's really an ideal situation."
Bryan used to get asked, "Are you related to Sam Banks?" Now, Sam hears it about Bryan.
"Are you related to the guy who worked the Sugar Bowl?" Sam said. "That's the question I get."
Needless to say, Sam is thrilled with Bryan's accomplishments. On and off the field.
"The progress that he's made has been outstanding," Sam said. "For him to be working bowl games, it really says a lot. It makes me very proud to see him being able to achieve what he has in officiating. Making it to the Big Ten shows that you are one of the better officials in the country."