A gruelling ordeal for 112 Australian and New Zealand passengers on board a coronavirus-stricken Antarctic cruise ship anchored for the last 14 days off the coast of South America is nearing its end, writes Uki Goñi.
The fortunate passengers will be disembarking the Greg Mortimer cruise ship in Uruguay at 6.30pm Friday to fly home on a specially-chartered medical flight. Twenty other less fortunate European, US and UK passengers will have to remain on board pending negotiations for their own return.
A "humanitarian corridor" has been set up to shuttle the passengers from the port of Montevideo to Carrasco international airport "with all the sanitary guarantees necessary for them and for society in general," Uruguayan authorities said in a statement on Friday morning.
The fate of the remaining 20 passengers, and the ship's crew of 85, mostly Swiss and Swedes, is still unclear.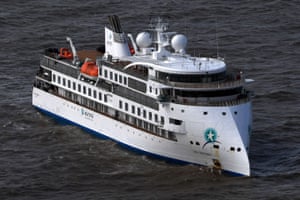 "The government has not yet told Aurora [the cruise company operator] whether the ship will be allowed to remain at port or will be required to go back out to anchor," Brian Meier from Chicago, one of the six Americans on board, who has been in quarantine in his cabin since 23 March, told the Guardian via WhatsApp Friday morning.
The Greg Mortimer cruise ship anchored 20 kilometres off the coast of Uruguay on 27 March with at least 128 passengers and crew testing positive for coronavirus so far.
The ship had left from the Argentinian southern port of Ushuaia on 15 March, for an Antarctic cruise that had to be interrupted when passengers started developing symptoms.
A specially-equipped Airbus 343 with medical personnel on board, chartered from the Portuguese Hi Fly air company, will be departing for Melbourne at 1.40am on Saturday.
"The plane will be set up into risk zones, with passengers seated by test results," Aurora Expeditions informed the passengers.
Migration formalities have already been processed digitally to avoid any physical contact with the passengers, Uruguayan authorities said. A convoy of buses will transport them from the port to the airport, from which they will descend on the tarmac to board the plane directly. Only hand luggage is being allowed "without manipulation of luggage to avoid contact."
The fate of the remaining 20 passengers will probably depend on the results a new round of coronavirus testing by Uruguayan doctors. "The non-AU/NZ passengers were tested Wednesday evening but we haven't gotten any results back yet," Meier said.