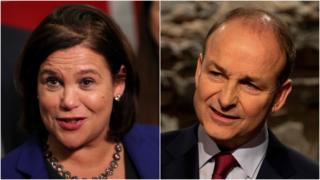 The Fianna Fáil parliamentary party has decided not to enter talks with Sinn Féin about forming a new Irish government.
All eyes are on the makeup of the next Dáil (Irish parliament) after an election that led to an historic surge for Sinn Féin.
Sinn Féin topped the first preference poll but its total of 37 seats is one fewer than that of Fianna Fáil.
No single party has enough seats to govern.
Before the election, Fianna Fáil leader Micheál Martin ruled out forming a coalition with Sinn Féin, citing its historic links to the IRA as a deterrent.
In the wake of Saturday's vote, he did not reject the two parties working together but said "significant incompatibilities" existed.
Fianna Fáil's parliamentary party met on Thursday afternoon.
BBC News NI understands the members agreed that Fianna Fáil should not enter government formation talks with Sinn Féin but Mr Martin received backing to talk to other parties.
Sinn Féin, led by Mary Lou McDonald, held a meeting of its parliamentary party on Thursday morning.
Echoing Mr Martin's comments, Ms McDonald said there were "big incompatibilities" between her party and Fianna Fáil.
But she challenged Fianna Fáil to enter talks about government.
"Our objective is a government of change – the question is this: Will Fianna Fáil sign up for that type of change?" she asked.
"The type of change that people voted for?"
Ms McDonald has already written to Mr Martin and also reportedly intends to write to Fine Gael about government formation.
The outcome of the election was described by Ms McDonald as "something of a revolution" in the ballot box.
The left-wing republican party took 24.5% of the vote, compared with 22% for Fianna Fáil and 21% for Fine Gael, led by outgoing Taoiseach (Irish prime minister) Leo Varadkar.
Fine Gael has also ruled out coalescing with Sinn Féin, citing opposition to its tax policies.
Why the Sinn Féin surge?
Analysts suggest Sinn Féin managed to successfully tap into the public anger felt in the Republic of Ireland about issues that have dogged centre-right Fine Gael for a number of years – a shortage of housing, rocketing rents and homelessness.
That is in spite of the fact the country is forecast to have one of the fastest growing economies in the EU in 2020.
Those issues were dubbed "the problems of success" by former Finance Minister Michael Noonan as far back as 2015.
Brexit – a considerable focus of Mr Varadkar and his deputy Simon Coveney while in power – barely registered as an issue in the campaign.
How many seats are required in the Dáil to form a government?
Eighty are required – and no single party has that number.
Even if Fianna Fáil and Sinn Féin agree to coalesce, they still will not hit that magic number and will need to turn to either some of the smaller parties or independents to get them across the line.
That means there could be a lengthy wait to see the makeup of the next government.
That's not entirely unusual – it took 70 days for previous Taoiseach Enda Kenny to form a government in 2016.
Can Fianna Fáil or Sinn Féin simply try and form a government with each other's support?
That would make an already difficult task nigh on impossible, particularly as outgoing Labour leader Brendan Howlin recommended to his parliamentary party that it remains in opposition.
Both Fianna Fáil and Sinn Féin would require the support of all of the remaining smaller parties and all independent TDs to make that work, which is highly unlikely, and even then they would only slip over the 80-seat line.
That means any subsequent government would, potentially, be highly unstable.
The other option is that Fianna Fáil and Fine Gael could look to form a coalition.
The two parties, whose histories date back to the Irish Civil War, have never been in a formal coalition.
Fianna Fáil propped up Fine Gael in the last government in a confidence-and-supply arrangement.
If that option occurs, they would need the support of smaller parties or independents to get across the 80-seat mark.