Google is yet to boot from the Play store another batch of fake apps built only to show advertisements on users' devices. A researcher has uncovered nine of them, with a total install count of over eight million.
Among the most in-demand of this set of offensive apps are four with over 500,000 installs from the official Android store, one with over one million, and another that shows a whopping five million installs.
Remote controls pushing ads
All of them are advertised as remote control apps, either for multiple electronics or for specific ones (like TV-sets, air conditioners) and they all come from the same developer (Tools4TV).
Lukas Stefanko, malware researcher at ESET, says that none of the promised functionality is present in any of the apps.
When launched, the adware-pushing apps hide from user's view and start showing adds, he said in a tweet accompanied by a video that proves the annoying behavior.
9 fake apps containing #Adware functionality found on Google Play with over 8 Million installs.

Unwanted code is hidden in "not working" apps that once launched, hide itself from user's view and display ads.
All these apps are fake without any promised functionality. pic.twitter.com/Lc0N2BuUWv

— Lukas Stefanko (@LukasStefanko) January 11, 2019
The most popular of the bunch poses as a universal remote control for TV and other electronics in the house. It is also the oldest on Google Play and has amassed over five million installs since June 28.
Talking to BleepingComputer, Stefanko said that the app was uploaded to Google Play containing the adware functionality because it received no update since it was first added in June. He also shared with us the install statistics for the fake app since it was added to Google Play.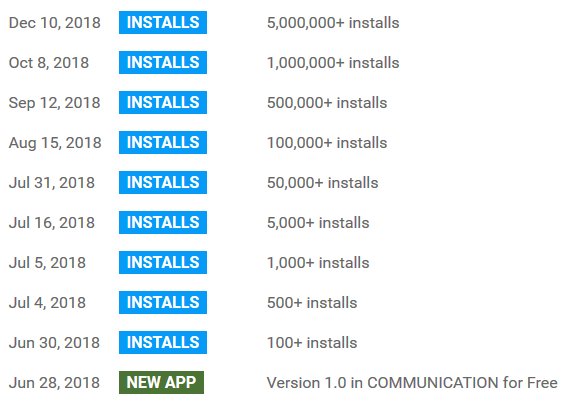 Not the same may be said about other apps, which received updates while on Google Play, despite the fact that their "Additional Information" section shows only one revision.
Stefanko informed Google of the adware in its store but at the time of publishing the apps are still available for download. They can be found under the the developer Tools4TV that published them.
Adware apps in Google Play reported twice in a week
This is the second case reported this week of fake apps designed specifically to push ads to devices.
Three days ago BleepingComputer reported about 85 apps that included adware code discovered by Trend Micro. Combined, they were installed more than nine million times.
The apps, published under different developer names and signed with different certificates, also hid from view. They were highly aggressive and displayed ads programmatically, every 15 or 30 minutes, or whenever the user unlocked the device.
Update: The fake apps reported by Lukas Stefanko are no longer present in the Play store, a Google spokesperson told BleepingComputer. Links to the apps and the developer have been removed from the article.
Android users that still have the fake apps on their device can uninstall them from the Settings -> Apps menu.
Source link