[ad_1]

After ongoing requests from the community, Nintendo has today dropped Tetris 99 DLC that allows players to enjoy two new modes – both of which can be played offline.
The Big Block DLC is a one-time purchase of $9.99. It includes CPU Battle, allowing you to play Tetris 99 offline against 98 bots and a Marathon Mode, where you challenge yourself to clear as many lines as you can and score big. Information about additional upcoming game modes will be revealed at a later date.
As both of the above-mentioned modes are offline, this means any user can play the game without the need for a Nintendo Switch Online membership. Of course, you'll still need to fork out some coin if you want to play against others online.
In addition to this, the third Maximus Cup has been announced. Once again, this free event awards various points for each match played – even if you don't win. The higher you place each match, the more points you earn (1st: 100, 2nd: 50, 3rd: 30, 4-10: 20, 11-30: 10, 31-50: 5, 51-80: 2). If you manage to earn 100 points during this event, you'll unlock a special in-game theme inspired by Tetris on Game Boy. This event takes place next weekend from 17th May until 19th May.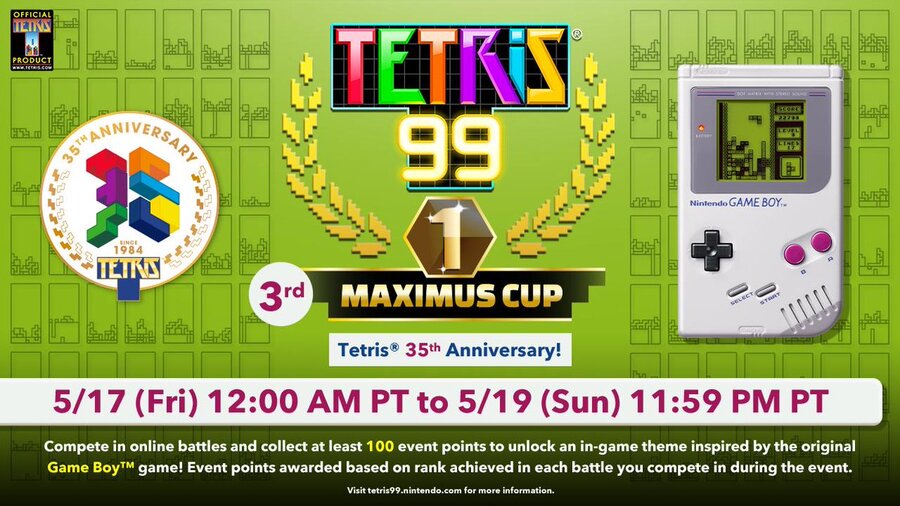 The #Tetris99 3rd MAXIMUS CUP is set for 5/17, 12 AM PT – 5/19, 11:59 PM PT! Celebrate the @tetris_official 35th anniversary with this special event! All participants who earn 100 event points will unlock an in-game theme inspired by the original Game Boy game!
Will you be buying this DLC? Are you looking forward to unlocking a special Game Boy theme in the Maximus Cup? Tell us below.
[ad_2]

Source link